Download THE TOOLS AND THE STUFF:
Or, better yet--buy the actual CD! (click on the album cover!)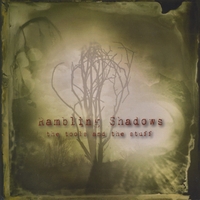 . . . and due to rabid demand, here are three (technically four) Tools tracks in their entirety:
Nude >> What's Coming
Some rare stuff (for all the fans):
Bucket Dropping Time
When you're fishing for shit . . .
These from the Davis White era:
Rhythms of Heaven
It was really funny until it wouldn't leave our heads.
Troubles in the Barnyard
more livestock-oriented material
Beauty Queen
It's another thing to think about.
CPU (Crippled Pilgrims Unlimited) - 1986-ish
Basically just Jay and Scott screwing around on one of those old TASCAM 4-tracks
Two Worlds
The generous cocaine dealer in apartment #3B is not necessarily your good friend.
Something About a Wheelbarrow
The guys at Parasol/Reaction didn't seem too impressed.
The Girl Song
more blow-fueled frenzy
Jesus and Sheep
courtesy of Bushmill's Irish Whiskey
Salt Diamond Mine (recorded 1990 - 92)
Brian Tate-vocals; Scott Wingo-guitar; Brian Reardon-bass on "Blindman's Whorehouse"; Tattoo Mike-bass on "Hi-Gear" and "Swell Hell"; Malik Tate (no relation to Brian)-drums on "Blindman's Whorehouse" and "Hi-Gear"; Jamie Parker-drums on "Swell Hell"
Blindman's Whorehouse
This is the one that scared Charlie Steck away.
Hi-Gear
Born at the same hour and at the same Falls Church shopping mall as the semi-legendary "(I've Got My) Steak in a Sack"
Swell Hell
He pulled into town on a dead horse. (Check out the shameless fret-tapping guitar solo!)
Jamie Famie and the Famie Five (old-world valor)
Jamie Famie-vocals, kazoo, drums; Scott Wingo-guitar, vocals; Marky Darky-vocals; Jack Nurmi-vocals
Scotty's Adventures in the Sewer
Based on true-life adventures! Covered by Rak Shiva (Lynn Buchannan, Dot Steck, Kiki Walker, Fatimah Balbed, and Vivian Vanprate) for their one and only live performance (DC Space '87 or '86--somewhere around there) and meticulously rehearsed by Jay Moglia at the Yuma Street compound (back in Jay's whiskey drinking days).
Scotty Makes Me
an exploration of sibling-induced hell on Earth.
The Barn Door
"The Five" give the Stones a serious run for the money.
(more to come . . . )
Special Bill Hanke exclusive: Sonic Youth at Battery Park - 07-04-2008 (available for a short time only!)